About
Could Jesus feed the world with our lunch?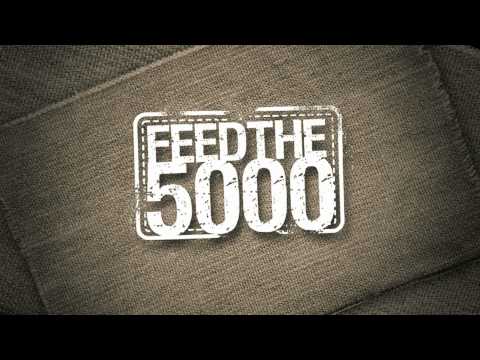 Feed the 5,000 is a movement to sponsor children and grow our hearts.  The vision for the movement came into focus when newlife pastor Wes Davis was on a trip to Nairobi, Kenya with Compassion International. In Wes' own words:
In the slums of Mathare, 800,000 people live in two square miles in shacks just bigger than my bathroom. Yet it is here that the church is bringing hope by preaching a gospel that includes caring for people's practical needs – feeding the poor, educating the children, and providing basic health care.

While on the trip, I was reflecting on the story in John 6 of Jesus feeding the 5,000 people with one boy's lunch. I sensed the Holy Spirit say to my heart – "give up your lunch so a child can eat" and the question hit me: "Could Jesus feed the world with our lunch?"
What is it going to take to get 5,000 kids sponsored in one year, from a church with around 2,000 attendees? A miracle, that's what.
Just like the boy who offered his lunch to Jesus, all we can do is give what we have. Then we have to have faith that God will do the rest.
About the Sponsorship Organizations
The sponsorship organizations listed here were selected as trustworthy, reputable options for child sponsorship. There are many good organizations out their doing child sponsorship (and you are welcome to sponsor through them as well!).
These five organizations specifically met criteria to be on this list, including reputations for good stewardship, experience in the field, connection to newlife, and above all, a focus on carrying out the mission of Jesus.
Click through to read about any of the organizations in more detail.
Churches involved in the movement
newlife
newlife is a rapidly growing church with a vision to ignite a movement of people following Jesus. newlife participants are committed to help heal the world starting right here on the Kitsap peninsula – want in?
We gather in four different locations around the West Sound – Silverdale, Bainbridge Island, Port Orchard and Gig Harbor.
Coram Deo
Coram Deo is a non-denominational church in Bremerton, Washington that exists to fill communities with people who display the Gospel by loving and serving others.
The Rock Church
At The Rock Church, located in Lynnwood WA, our mission is to 'Help people discover a growing relationship with Jesus Christ'.
We believe that the church is not a building, programs, or an organization. It is people!